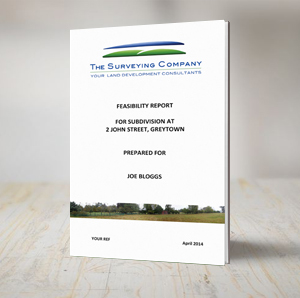 WHAT IS A SUBDIVISION FEASIBILITY REPORT?
The title says it all! Whether you are considering purchasing a property for development or already have a property you think can be subdivided, this is a full report which looks at the feasibility of a potential subdivision, big or small.
It outlines, costs, risks, processes, timelines, and the most important question – can it be done!? What could the sections be worth? Will I need neighbours consent? Everything you need to know before you start.
WHY WOULD YOU NEED A SUBDIVISION FEASIBILITY REPORT?
Undertaking a subdivision can be a risky, daunting, exciting, once in a life time experience. 
It can be a way to release equity in your existing property but we understand the process can be confusing with unknown obstacles. Sometimes clients come to us and have spoken with the local Council – this can leave more questions on the table rather than answers! Sometimes even the smallest of subdivisions can become complex when we look at planning and engineering constraints. 
We pride ourselves on giving our clients comprehensive and well informed advice on their potential development. We undertake a lot of feasibility reports as part of due diligence for people looking to purchase property for the intention of subdivision. 
You may be looking to undertake a large development and a feasibility report can assist you when securing funding. You might be marketing your property for sale and a report can be that added extra for a potential purchaser to see the development potential. Or for anyone looking to minimize their risk and know all the ins and outs before embarking on the development.
The report is comprehensive and easy to understand, giving you all you need to know to make an informed decision. It includes
A site visit from one of experienced subdivision professionals;

Scheme plan showing the possible subdivision potential;

We will have a discussion with Council regarding any potential risks to completion of the project know to Council but not necessarily in the public domain;

A full report and recommendation;

An estimate of total subdivision costs complete with a breakdown of those costs on a stage by stage basis;

If you are happy for us to do so we can get a local Real Estate agent to provide an assessment of the potential returns from subdivision;

The report presented and discussed with you in a face to face meeting;

All this comes as a fully bound report suitable for presenting to your funder if required.
The professionally presented report can then be used to discuss the development with lenders, valuers, architects and the like who will help you make an informed decision on the project. At The Surveying Company our network, expertise and experience in land development and subdivision enables us to be the right member of your team to consult on all aspects of property development – starting with feasibility.
Subdivision feasibility reports start from $2,750.00 + GST. The cost varies depending on how large the subdivision is and if there are any known complexities to investigate. We believe this is money well spent – you either decide to go ahead with the subdivision and the cost of the report comes off our overall fees, or you decide that undertaking the subdivision is not right for you and therefore it's better to spend a small amount now finding that out rather than embark on the subdivision process and make that decision further down the track after a great deal more money has been spent.
HOW LONG DOES IT TAKE TO COMPLETE?
4-5 weeks is the standard time to undertake the report, however if it is part of due diligence on a purchase and there are tight timeframes we can usually accommodate these. Make sure you let us know if there are time constraints from your end and we will always try our best to accommodate.