Land Development and Subdivision
URBAN AND RURAL SUBDIVISIONS
Subdivisions vary in size, location and complexity. They do however all follow the same process. Application for resource consent to the local Council, engineering design of services and access, construction, land transfer survey (putting the pegs in the ground!) and lodgement to Land Information New Zealand for new titles. We take the whole process from start to finish and liaise with the contractors through to your solicitor. We are skilled in all types of subdivisions across the Wellington, Wairarapa, Kapiti and Horowhenua Regions.
A boundary adjustment is a type of land subdivision – it involves realigning the boundary between properties while still maintaining the same number of titles and parcels of land. It follows the same process as a subdivision: resource consent, land transfer survey and deposit with Land Information New Zealand. There is normally no engineering input required.
CROSS LEASE TO FEE SIMPLE CONVERSIONS
We can undertake the conversion of cross lease properties in to fee simple. Converting a cross lease property to fee simple requires the consent of all owners in the cross lease and will also require some construction works to upgrade services and ensure they are separated but will result in a much more valuable title and property. It is usually more attractive to sell and owners can fully control, protect and manage their individual asset
Get our 7 steps to Maximising Subdivision Value guide
Downloaded over 1000 TIMES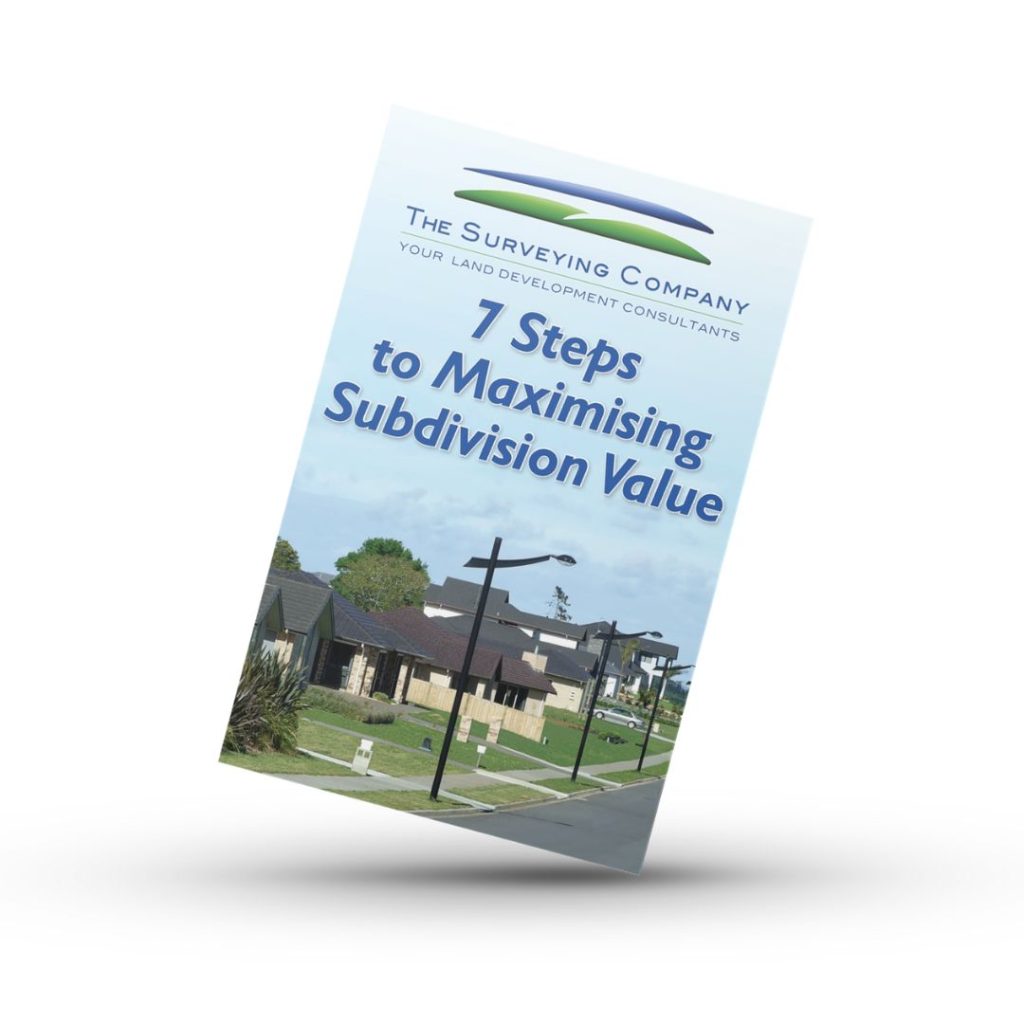 Unit title subdivisions are the way in which we provide individual titles to units/townhouses/apartments/offices under the Unit Titles Act 2010. Unit titles are the most appropriate way to provide titles to high rise apartment blocks. There are usually common areas in these types of land developments and always a body corporate to look after these areas. The title to the property reflects what you exclusively use and occupy and those areas that you can share with other residents. When we are looking at and designing a new development we advise you on the most appropriate form of title – fee simple or unit title. For example it is not very attractive to have a unit title property consisting of two units in a residential suburb – the body corporate costs and compliance costs are inhibitive and deter potential purchasers, however a high rise apartment block in the city purchasers expect these to be unit titles and accept what goes with them.
SUBDIVISION FEASIBILITY REPORTS
A subdivision feasibility report is the best place to start when considering undertaking a subdivision. It allows us to provide well researched and comprehensive advice as well as providing our clients with a full appreciation of the process and costs involved before embarking on the project. Click here to find out more about our subdivision feasibility reports.
The Surveying Company specialises in land development and land subdivision and caters to clients in Wellington, Porirua, Hutt Valley, Kapiti, Wairarapa and Horowhenua. Get in touch with us today to discuss your subdivision requirements. We also offer other land surveying services in the above regions.